Description
Large Charles Hastilow Style Chessmen by Oleg Raikis.
A majestic set of elaborately carved chessmen in the Charles Hastilow Style. The pieces are Natural and Dark Green-stained Mammoth Ivory. The King stands a statuesque 7-3/4" tall with a 2-7/8″ diameter base. A comparison of the King with a Jaques full Club-Size Staunton King is shown here.
These extraordinary chessmen were created by noted sculptor and Mammoth Ivory carver Oleg Raikis. The design of these chess pieces is inspired produced by similar chessmen often attributed to Charles Hastilow. The chessmen were crafted in 2004 and are as new. For our extensive selection of antique, traditional and unique chessboards, please click here.
Some History.
Charles Hastilow was known as a masterful carver of ivory. One one of his sets which was featured in the 1862 International Exhibition, is shown here. Though this is a playing set, it features elaborate petaled decoration. The rooks are cannon towers topped by waving flags and the kings have crowns topped by Maltese crosses.
The set below, which has many features similar to the Raikis set offered here, also appears to have been made by Charles Hastilow. A copy of a page from the A.E.J. Mackett-Beeson book, Chessmen features what appears to be this exact set.
History Of The Chess Pieces.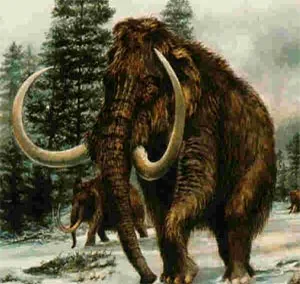 The Mammoth tusk is excavated from the permafrost of the Siberian tundra, which the woolly mammoth inhabited for more than 160,000 years. During the last ice age, the mammoth went extinct as the direct result of rapidly plummeting temperatures. The dry, cold environment of Siberia combined with the massive sheets of ice from the ice age created the ideal environment for the preservation of Mammoth byproducts. The woolly Mammoths have been entombed under the Siberian permafrost ever since, waiting to be unearthed.
For more than 2,000 years, Mammoth Tusk has been traded and it remains a highly prized commodity across the world. While the demand for the Mammoth byproducts has always been higher than its supply, it began its steep rise when the international ivory ban was enacted. This agreement banned all sales of new Elephant or Walrus Ivory, in an effort to protect the animals from extinction. As a result, Mammoth tusks became the only type of animal-based ivory that is exempt from the international trade restrictions. Over the past few years, the price of Mammoth tusks has more than tripled, due largely to the unprecedented demand for luxury goods from such emerging countries as India and China. This trend is expected to continue. Less than one percent of the Mammoth tusks harvested is of suitable quality for the manufacturing of Chess pieces, thus adding the production costs and long-term value.